The Eight Word Induction™ Created by Cal Banyan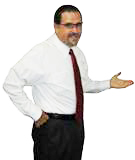 Hello, I'm Cal Banyan, hypnosis trainer and hypnotherapist; and I built this website just for you because my Eight Word Induction has taken the profession "by storm". Here is the "straight scoop", as they say.
With this in mind let me give you some background.
I developed the Eight Word Induction as a fast, reliable way to induce deep hypnosis in my sessions with clients and in order to have an instant induction that I could teach students in class which required the minimal amount of memorization. Since then, as they say, "The rest is history".
Here are those famous eight words," Press on my hand. Close your eyes. Sleep!"